 Why Choose Our
Taco Franchise?


Buena Onda Is Redefining the Fast-Casual Market
As a Buena Onda franchise owner, you'll bring fresh and delicious Baja-inspired Mexican food into your community and transform the current perception of the fast-casual restaurant experience. Our taco franchise is all about spreading the good vibes, and we do so by creating a relaxing, laid-back environment complete with unique menu offerings and friendly customer service.
There are few things in life that bring "good vibes" more than great food shared with friends and family. Whether our customers want to dine in, take out, or host their own Mexican party, Buena Onda is always ready to provide an exceptional culinary experience.
As a franchise owner, you will benefit from offering an innovative menu developed by an award-winning chef and being part of a growing $76.7 billion industry. Our fast-casual restaurant enjoys strong unit-level economics and we provide owners with comprehensive training and support. Read on to learn more about why we are one of the best franchises to own right now.
Iron Chef & James Beard Award-Winning Chef
One of the biggest differentiators of our Mexican restaurant franchise is our Chief Culinary Officer, Chef Jose Garces. An entrepreneur and food innovator, Chef Garces may best be known as an Iron Chef and James Beard Award-Winning Chef who has created unique and interesting culinary experiences.
After owning and operating full-service restaurants and authoring several cookbooks, he turned his attention to the fast-casual industry and created a concept inspired by the surf towns along the Baja Peninsula. His culinary accomplishments and popularity elevate Buena Onda and deliver instant credibility to the brand.
Learn about the support we provide our taco franchise owners and then take the first step today!
Traditional Model

Our larger-scale option offers our full menu and is either a free-standing building or located in a strip mall.  

Size: 1,200 sq ft – 2,000 sq ft 
Initial Franchise Fee2: $40k (See Item 5 of the FDD) 
Ongoing Fees: Royalties 6% & Marketing 1% (See Item 6 of the FDD) 
Initial Investment2: $470,900 - $883,500 (See Item 7 of the FDD) 

Non-Traditional Model

This smaller-scale option is often located within another business and sometimes offers a more limited menu. You'll find these locations in hotels, healthcare facilities, college campuses, airports, malls, government facilities, and more. 

Size: 250 sq ft – 1,000 sq ft 
Initial Franchise Fee2: $25k (See Item 5 of the FDD) 
Ongoing Fees: Royalties 6% & Marketing 1% (See Item 6 of the FDD) 
Initial Investment2: $192,000 - $470,900 (See Item 7 of the FDD) 

Multi-Unit Ownership

Buena Onda offers the opportunity to open multiple taco franchise locations over a specified development schedule in a designated market.  

Additional Units Fee: $15k 
Total Investment2: Varies depending on the number of units developed.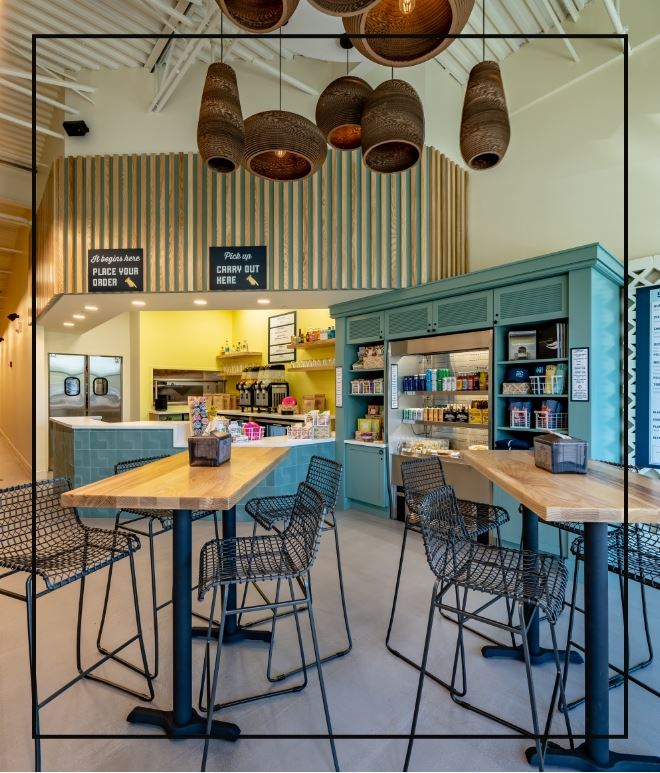 Innovative Menu & Utilization of Commissary Kitchens
Fresh, quality ingredients are integral to the Buena Onda menu, which is focused on creating a casual and fun taqueria vibe. Our menu features starters like smoked tuna dip, nachos, guacamole, salsa, house-made chips, and chicken tortilla soup. We also offer a variety of tacos and bowls featuring adobo chicken, pork al pastor, red chile short rib, mushroom, and kale. And, our sides include esquites, black beans and rice, refried beans, and more.
Buena Onda also takes the heavy lifting away from the franchisee by utilizing off-site commissary kitchens, where we prepare fresh, quality ingredients that are utilized at the store. This eliminates the need for larger kitchens and sophisticated, higher-paid chefs, yet still allows you to deliver the ultimate culinary experience at your restaurant. Each store will procure ingredients from one of our 40+ commissaries. Comprehensive Training & Support
As a Buena Onda franchise owner, you'll be provided with all the tools and support you need to hit the ground running on day one – and build a thriving business. When you join our team, you'll be provided assistance with the following:
Site evaluation and lease procurement
Design and construction
Training and education
Product distribution
On-going operational consulting
Marketing and promotions
As a Buena Onda owner, you'll have the freedom and flexibility you crave yet you'll never be on your own. You'll always have our dedicated support team behind you every step of the way, from the day you sign your franchise agreement until long after you open your doors.
A $76 Billion Industry – And Growing
There are very few national brands in the fast-casual Mexican space – and those that do exist don't offer the good vibes and quality foods that we do. With Mexican restaurants being the third most popular menu type, this creates an incredible opportunity for Buena Onda and our new franchise owners. Our industry has been steadily growing over the past decade and has reached over $76 billion. We expect this upward trajectory to continue, learn more about our Mexican food franchise and then take that first step today!